Just like the lotus, we have the ability to rise from the mud, bloom out of darkness, and radiate into the world.
Contact Me to Schedule a
No-fee Discovery Meeting!
Just fill in a few details . . .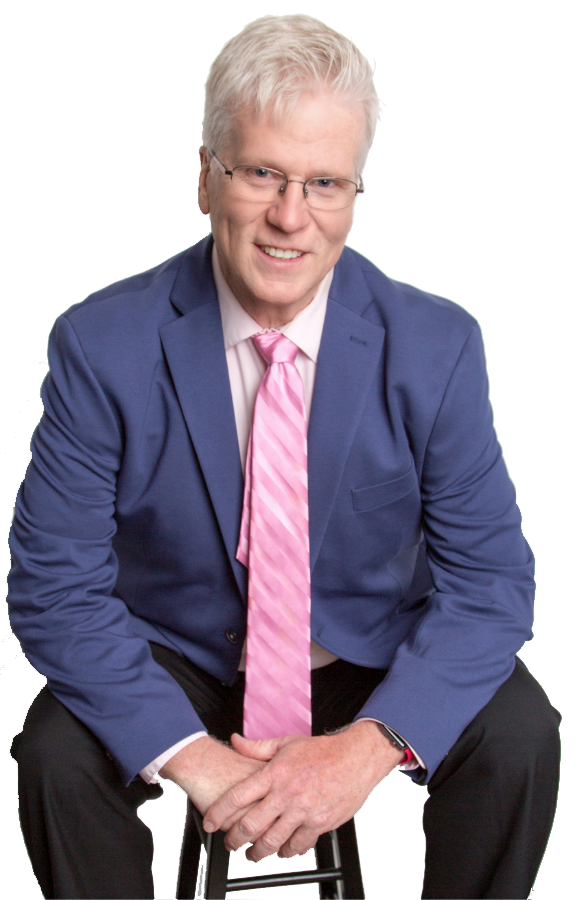 "Michael worked with both of my teenage children, helping them understand the results of the College and Career Impact reports. After spending time with Michael, my children learned how to leverage the information in their reports and gained valuable tips and strategies for improving their communication."
Nydia Monarrez
Mom and Voice Over Talent
"Michael administered and interpreted a DISC assessment for me. He provided insights I had not been aware of after 20+ years as a business professional. Through his coaching, we mapped out growth opportunities for me."
Stacey Boyle
Author/Consultant
"I've had the pleasure of playing the Leadership Game in a session Michael moderated. Besides learning more about ourselves, it is a total joy to experience Michael's positive enthusiasm."
Tony Winter
Commercial Real Estate Broker
"Michael's wisdom and insight helped me to recognize, validate, and honor my own values, philosophies, and desires. This process enabled me to ignore distractions, focus on setting clear goals, and develop a sound plan for life after retirement."
Anna Park
Program Support Teacher
"I can't say enough great things about Michael and Spirit Rising Coaching. Michael has an easy way about him that makes the material very easy to understand and implement."
Tracy Whiteside
Photographer
"I am so appreciative of Michael's thoughtful, caring approach in working with staff, students, and families. His efforts have resulted in altering outcomes and improving staff practices. For this, I'm deeply thankful."
John Harper
Director of Student Services
"The wealth of knowledge and expertise that Michael brings to the table has been wonderful to absorb. The calm energy that surrounds him has been grounding!"
Jennifer Foster
Speech and Language Therapist
"Michael is an experienced educator who can guide teams and individuals to set and achieve goals aimed to improve their lives. He is an interesting speaker and effective coach. His recent presentation to the chamber of commerce was engaging, empowering and fun!"
Anita Malik
Account Executive
"Wow! Playing the leadership game with my staff was a great experience! I learned more about my team in those two hours than I expected. This will truly help me craft a strategic leadership development plan as I move forward."
Murray Collier
Chick-Fil-A Owner/Operator
"Our group had a very productive experience with the presentation and participation with Michael from Spirit Rising Coaching. He provided a different outlook on interpersonal relationships and team building than the usual seminars we have had."
Gary Moore
Marketing Director
"Michael is compassionate, insightful and skilled in his coaching and support around professional and/or personal issues. He is easy to talk to and helps guide you to your own guidance. Always a positive experience to receive support and coaching from him. Always positive to just BE with him!"
Nanette Negri
Life and Nutritional Coach
"I have participated in coaching seminars before but this one was a grand slam! Michael not only delivers valuable content but engages each participant to relate it practically as well. A must experience if you want to up your game or just figure out some of the mysteries in social interactions."
Jeremy Shouse
plumber
"Michael is a passionate leader, mentor and guide to teams in leveraging their strengths to build a stronger team. If you are looking to enhance your team's performance, you need to contact Michael."
Jim DiCiaula
Chamber of Commerce President & CEO
"Michael is very knowledgeable and informative. After going through the Sales Impact process, I had a better understanding of my strengths and weaknesses and how to maximize my efforts for my business. I highly recommend Spirit Rising Coaching for any business or organization that wants to improve communication and increase sales."
Cherie Breedlove
business owner
"I have had the pleasure of knowing Michael for several years as fellow entrepreneurs. I have been impressed with the inspirational combination of his professionalism and truly uplifting spirit."
Scott Russell
Publisher of Batavia Living and Saint Charles Living
"Michael is a thought leader, he is extremely hard working and passionate about what he does. He has a very high mentoring spirit, and is an inspiration to people he meets. He is a dynamic individual, friendly, trustworthy, who takes time to cultivate a relationship."
Lewis Johnson
Owner, LDJ Cleaning Professionals
"Michael's teaching style, overall approach, and experience with the DISC assessment was incredibly helpful in empowering me to identify ways to actually apply the findings of the report in my own life. Connect with Michael if you are looking to learn more about your own personality and how to effectively communicate with those around you."
Sean Rosensteel
Best- selling Author, Serial Entrepreneur
"Michael is an incredible transformational coach and trainer. You'd be very much pleased with his ability to take your business to the next level."
Ilya Davydov
Leadership coach, speaker, and trainer
"A huge thank you to Michael who did a fabulous job providing an amazing workshop to the Batavia Chamber of Commerce members. Wonderful turnout and great feedback for the presentation. We were thrilled that Michael provided our chamber members with access to such educational and informative content!"
Margaret Perreault
Chamber of Commerce CEO & President
"Michael is a passionate coach whom works with teams and individuals. Co-workers truly learn how to work best with each other and Michael makes if fun and engaging. His guidance and insight is priceless."
Susan Huang
Fox Valley Values and Deals
Hello!  My name is Michael Shoultz and I am the founder and Chief Inspirational Officer of Spirit Rising Coaching. As a leadership coach certified with the John Maxwell Team (the largest and fastest growing leadership certification program in the world), I'm equipped to help you improve your ability to connect with others in order to develop stronger relationships; improve individual and team effectiveness; and to reach your personal, professional, and/or organizational goals.
Whether working with businesses, organizations, or individuals, my focus is on getting to know you and your challenges and ambitions.  Cookie cutters are best left in the kitchen. I tailor my professional development and coaching services to address your individual or team needs. As your leadership coach and trainer, it is my highest objective to help you reach your purpose, vision, and goals. I provide results-driven services that support your achievement of outcomes that will move you forward.
What's the ROI for Investing in Leadership Development?
Studies have shown that the Return on Investment of business coaching services exceeds 500% (MetrixGlobal, LLC), businesses:
• improve bottom-line financial performance,
• attract and retain talent,
• drive a performance culture, and
• increase organizational agility.
Leadership development isn't just for businesses and organizations. Developing and strengthening your personal leadership skills leads to:
• a higher level of self-awareness and self-confidence,
• a more balanced life,
• smarter goal-setting, and
• lower stress levels.
Studies also have demonstrated the efficacy of personal leadership development:  70% of clients said their investment in a coach was very valuable; 28.5% said their investment was valuable.
(International Federation of Coaches).
"Exceeding expectations is where satisfaction ends and loyalty begins." — Ron Kaufman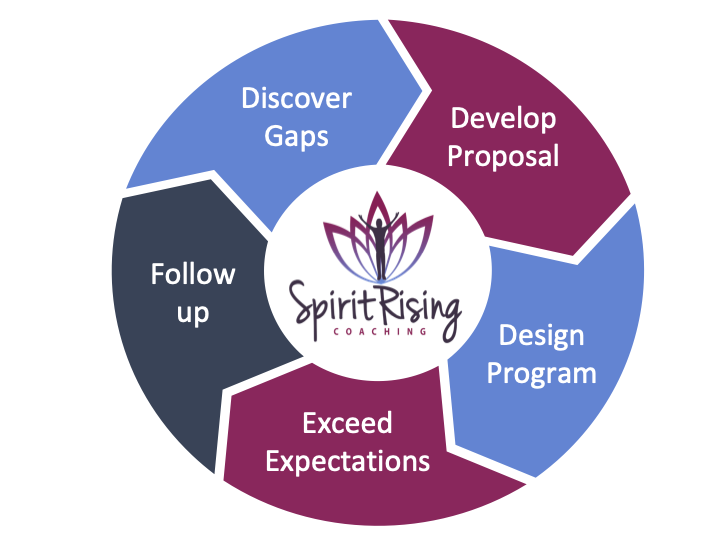 At Spirit Rising Coaching, we don't use a cookie cutter approach when developing customized programming to respond to your identified needs. Our proven process starts with a discovery meeting where we get curious, ask a ton of questions, and really listen to what you need and want to close the gap between where you are and where you want to be.
Take a look at the range of programs and services that we provide :
"Once we believe in ourselves, we can risk curiosity, wonder, spontaneous delight or any experience that reveals the human spirit". — E.E. Cummings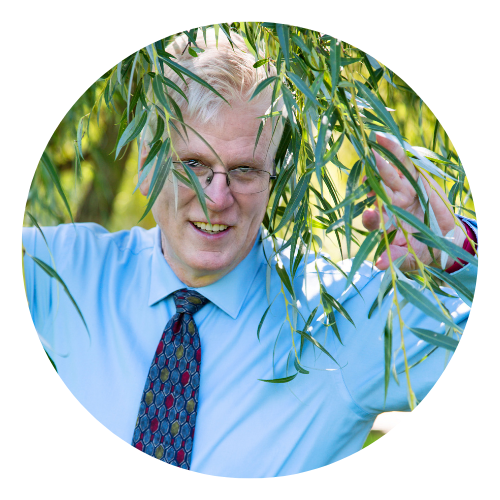 A caterpillar's potential is to become a butterfly.
An acorn's potential is to become an oak.
What is YOUR potential?
As spiritual beings having human experiences, it is widely held that "human potential" is the only limitless resource that exists within the universe.
At Spirit Rising Coaching, we are passionate about partnering with individuals and teams to foster the development of higher productivity, innovation, and creative thinking. We believe in the unlimited power of  human potential!
Rise Up!  Harness Your Potential!
Welcome to
Spirit Rising
Coaching